Bloomsbury Uniquely Historical
Historic Hours
Please contact The James Madison Museum for private tour and admission information
Museum Location
11010 Bloomsbury Rd. Orange VA, 22960
Situated among scenic rolling hills and fields, Bloomsbury is the oldest extant dwelling in Orange County, Virginia. Prior to the mid-18th century, most planter's homes this far west of the James River would have been built with logs, which makes Bloomsbury's frame structure unique. The two wings of the home date from the 1730's and late 1790s.
On July 20, 1722 Colonel James Taylor, II obtained a land grant of 8,500 acres which included most of the modern Town of Orange to the Rapidan River. Family tradition is that he had the home built that same year. We have been researching deeds and other documents and have determined a potential window of time for the construction of the original house.
Captain James Taylor, III received 1,000 of land from his father in 1729. He then purchased adjoining acreage (Robert Taliaferro's land, "Silvania") after his father's death that year. We know that Captain Taylor's wife, Alice, died at Bloomsbury in 1739 and is buried in the family cemetery there. Logic dictates that Bloomsbury was built between 1730 and before Alice died in 1739. Once the dendrochronology is performed, we will share the results.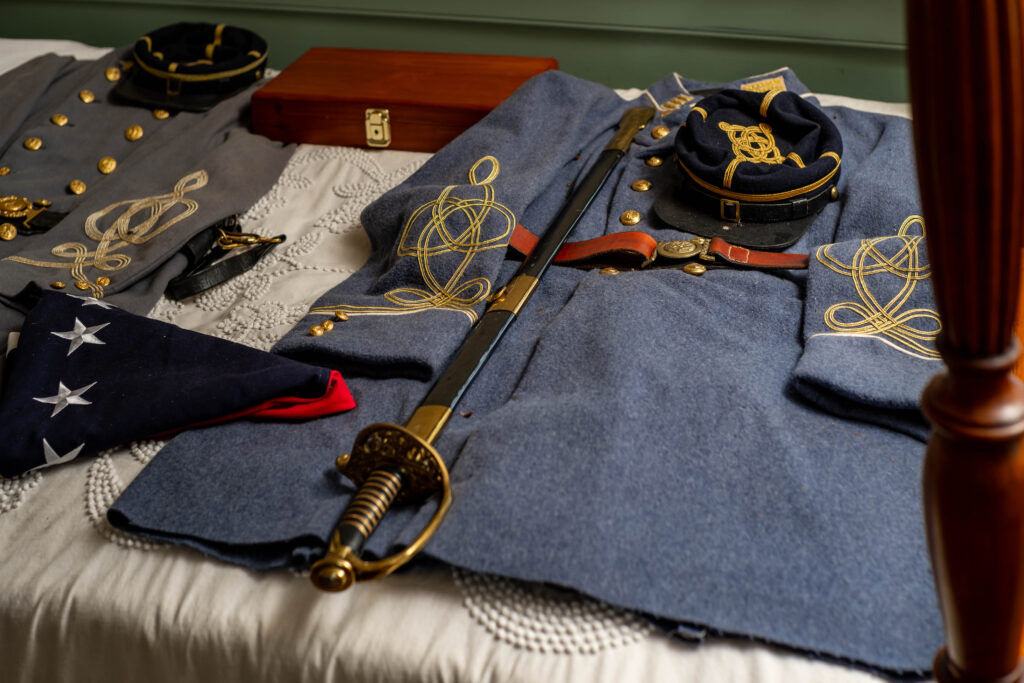 The home passed away from the Taylor family in 1791 when it was sold to Elias Langham of Fluvanna County, but no architectural changes were made the home.  In 1797 Bloomsbury was purchased by William Quarles of Bedford County who enlarged the house with an addition matching the style of the original structure.  In 1842, Quarles sold the home to Mr. Francis Jerdone and it remained in their family for 122 years.  It is amazing that the home survived the American Civil War as many battles were fought throughout the area.  Bloomsbury returned to the Taylor family in 1964 when Mr. Jaquelin Taylor purchased it from the Jerdone sisters as a wedding gift for his bride, Helen Marie Taylor.  After her husband Jaquelin's death in 1985, Helen Marie Taylor continued the preservation and conservation work of Bloomsbury.  Today, Bloomsbury tells the story of Colonial America and the family that produced two American Presidents; James Madison, Jr. and Major General Zachary Taylor.
In the near future, visitors to this historic site will have an opportunity to walk through a lovely colonial home, beautifully restored and largely untouched by modern era technology and conveniences.  Terracing of the original sunken garden remain visible though the boxwoods and flowering plants have been gone for decades.  The Helen Marie Trust plans to have the garden authentically replanted and outbuildings referenced in primary source documents reconstructed.
The architectural structure of the home does not lend itself to wheelchair access at this time.